Apr/09/16 08:30 PM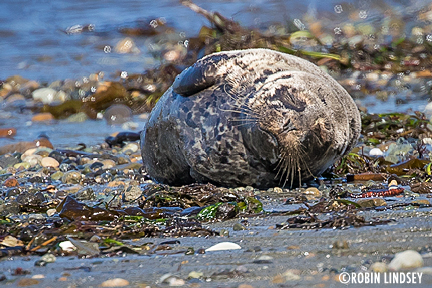 A harbor seal pup near Brace Point kept Seal Sitters' first responder on her toes this afternoon. The hotline received a call about a pup just barely north of the Point. However, the beach was empty when she arrived.
Thru binoculars, the long stretch of shoreline of
Fauntleroy Cove
, historically important to Native Americans and one-time site of an ancient burial ground, was carefully scanned. There was no sign of anything between the tideline and woody debris high up near the houses.
Resigned that the pup must have been scared into the water, the responder noticed a furry little shape - nestled in the shadow against a wooden raft, half in the water at such a low tide, far down the beach. Sure enough, there was the pup. And sure enough, there were off leash dogs headed his way. The responder established a wide tape perimeter, stretching yellow tape between stakes and driftwood. As the tide rose, the alert pup moved a few feet onshore. After resting about an hour, the approximately 7-9 month old pup swam off and disappeared into the blue waters.
The stranding materials were removed from the area after ensuring the pup didn't have plans to return. The First Responder made the long trek back down the beach, south and around the Point, headed to her car and, theoretically, home. Just as she reached the car, neighbors said a pup crawled ashore about 50 yards away. Once again, tape was stretched and neighbors enthusiastically welcomed our presence and offered assistance. A call was placed to volunteer coordinator Arden and soon volunteer Sarah eagerly showed up to lend a hand.
The pup, nicknamed Doodle, rested until about 4pm and swam off once again.
Huge thanks to Sarah, who has faithfully used Seal Sitters' online "Doodle" volunteer calendar and entered available times every week for many, many months. Because our pupping season had been so strangely quiet and virtually no weaned pups using the shore over the winter, she had never had the opportunity to protect a pup - until today.
Please
call Seal Sitters' hotline at 206-905-SEAL (7325)
if you see a seal onshore. Because of the high number of off leash dogs along Lincoln Park, Fauntleroy Cove and beaches south, it is especially important to have volunteers on-site so seal pups can rest and warm up, free from harassment and harm.