Nov/07/16 05:36 PM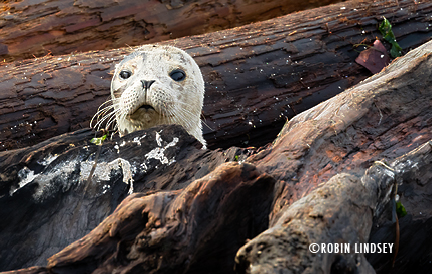 Following a long stretch of rainy weather - day after day - soggy Seattleites finally caught a much-needed break this afternoon, as the sun broke through the clouds and raised temps to the low 60's.
Admiring the snow-dusted Olympic Mountains across from Weather Watch Park shortly after noon today, West Seattle resident Zach noticed a small harbor seal crawl out of the water and disappear into the driftwood strewn on the small beach. He immediately dialed Seal Sitters' hotline (206-905-7325) and First Responder Lynn was on the scene within minutes.
Zach pointed out the logs that the seal pup, hidden from view on the neighborhood beach, had wriggled over and settled in between. Lynn and fellow First Responder Robin stretched tape to close off access so the pup could rest undisturbed. Occasionally, you could see a hint of whiskers or the stretch of a flipper. Periodically, as a noisy bus or motorcycle roared by on Beach Drive, a little white head would peer out to make sure all was safe.
Volunteers Eve, Cathy and John chatted with passersby about the pup, nicknamed
Pipsqueak
, who emerged from his (or her) hideaway around 2 and rested in full view on the beach before swimming off around 2:50. While not exactly chubby, Pipsqueak was alert and no health issues were noted.
PUPDATE:
On a sad note, seal pup
Pepper
,
rescued on October 17th and taken to PAWS
after suffering seizures on the beach near the Fauntleroy ferry dock, did not survive.
PAWS
staff fought valiantly for a week to save the pup, but the small male had too many issues to overcome. Pepper was markedly thin with very little blubber thickness and was battling a lungworm infestation, a common health danger for seal pups in fall and winter months.
Oct/17/16 05:46 PM
Yesterday morning, Seal Sitters First Responders Robin and Dana rushed to a small public access beach next to the Fauntleroy ferry booths. Hotline operator Emily had received a report of a harbor seal pup that appeared sick or injured.
Upon arrival, the concerned couple who had called the hotline pointed out the pup, near the tideline just north of the dock. Tape was stretched across the sand to establish a restricted zone around the vulnerable seal who was having seizures. A call was urgently placed to
PAWS Wildlife Center
, the NOAA-approved treatment facility for our region.
The surrounding area within feet of the pup had numerous large dog prints. Imagine the stress - and panic - of this sick pup, a
prey
animal, immobile and unable to escape a perceived threat.
The pup was gently placed into a transport kennel and driven to the Lynnwood clinic for stabilization and treatment. The initial veterinary exam revealed that the he had a number of health issues, not the least of which was possible pneumonia and lung worm infection. Fall and winter months are extremely challenging for weaned pups, who are often thin and susceptible to parasites and viruses.
The young male survived the night, but still has a difficult road ahead. At last report, the pup was stabilized, but "very sick."
Identification photos taken on the beach were compared with those of seal pups in this year's database. He was positively identified as
Pepper
, who had been observed sleeping on Alki Beach late Friday night in a downpour. Pepper was gone at first light the following morning. We will provide updates on the pup as we receive more information.