Dec/26/14 07:30 AM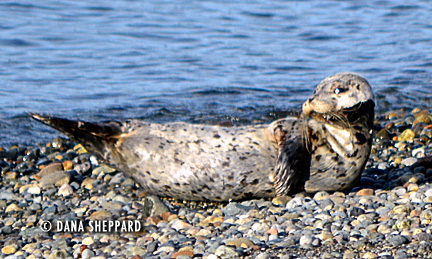 For the first time in Seal Sitters' eight years of marine mammal response, we had a harbor seal pup on Christmas morning. First responder Dana volunteered to be on duty for the day so that others could spend time with family (flipper hugs to Dana!).
Hotline operator Dave received a report about 10:45 that there was a seal on the beach at Lincoln Park. Grabbing her stranding materials, Dana jumped in her car and dashed down Beach Drive. As she made the long hike in from the north end of the popular park, she passed lots of people walking and riding bikes on a beautiful, sunny morning. A man saw her carrying signs and tape and asked if a seal pup was nearby. When she said yes, he quickly leashed his dog and left the beach.
Arriving at the scene, bystanders enthusiastically helped Dana establish a hasty protective perimeter. The pup, however, who was alert at the tideline, returned to the water. After waiting for some time to make sure the pup didn't return, the tape was removed. Just as Dana was getting ready to leave the park, she noticed the pup flop-hop ashore a short distance down the beach. Thankfully, SSMMSN volunteer JoDean and her daughter Cindy happened to be out for a walk and helped set up a new perimeter with tape and cones around the pup, now nicknamed Silverbell. JoDean and Cindy ended up staying for hours with Dana, educating the public about harbor seal behavior and pups' need to rest. Volunteer scheduler for the day, Arden, lined up volunteers to help throughout the afternoon. At times, there were people lined up all along the extensive yellow tape perimeter. Around 3pm, Silverbell swam off into the cold waters of Puget Sound.
Dana reported that she was so happy to be first responder yesterday and "got the best Christmas gift." JoDean emailed to say that she and her daughter both agreed it turned out be be "one of the best Christmas Days" they ever had. Even though they had planned a Christmas meal and needed to begin cooking at 1pm, they decided to change their menu and stay to help Dana. What a tremendous gift all of our participating volunteers gave Silverbell yesterday - that of safety! Seal Sitters is so lucky to have you.
Seal Sitters MMSN receives no funding for our work. If you would like to read more about our end-of-year and 2015 fundraising focus and make a donation to help,
click here
.