Jul/20/14 06:47 AM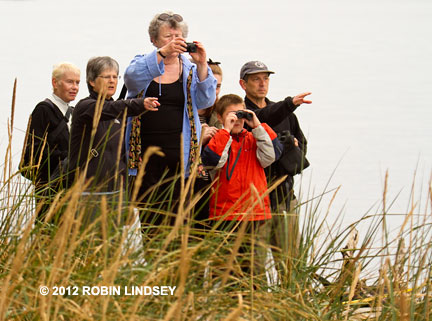 Seal Sitters' final training for the 2014 seal pupping season will take place on August 9th. There will be no further trainings until late fall due to time constraints on volunteers.

Last year's record-breaking pupping season stats (from late July's first response to a newborn seal pup to the end of the year's weaned pups) included 163 responses to marine mammals, including 66 positively identified seal pups. For a summary of 2013's activities,
click here.


This 2014 season has begun unusually early in West Seattle with responses to one full
lanugo
seal pup
"Luigi"
, a second premature pup
"Ali"
and full-term
"Junebug"
who is now in rehab at PAWS Wildlife Center.

Training Date:

Saturday morning, August 9, 2014

Time:

10am - 12pm (doors open at 9:30am)

*
please note:
Plan to arrive early to register and receive paperwork -
training begins promptly at 10

Location:

Alki UCC Church
6115 SW Hinds, Seattle
(map it)
Please
RSVP
for the training to assure seating
*Note to parents:
All children accompanying adults must be able to sit quietly through an almost two hour presentation (with break).

Seal Sitters MMSN holds several special trainings a year for those wanting to protect marine mammals year-round along the shoreline of West Seattle and the Duwamish River. Unlike most marine mammal stranding networks, we encourage children to participate in Seal Sitters - supervised at all times, of course, by a parent or guardian. We are so proud of our amazing and dedicated volunteers who are on duty rain or shine - we hope you will join us!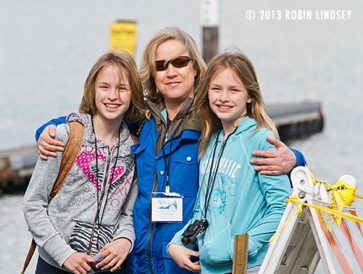 A multi-media presentation will illustrate our educational work in the community and the unique challenges of protecting seals and other marine mammals in an urban environment. Included in the training is an overview of NOAA's Western Region Marine Mammal Stranding Network and biology and behavior of seals and other pinnipeds (due to time frame, supplementary off-season sessions will include more marine mammals of Puget Sound).

Please
RSVP
for the training to assure seating.

For additional questions and info or to be placed on a contact list for future training opportunities, please
email us.
Jun/25/14 06:30 AM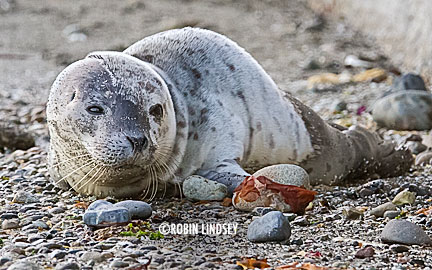 (
See latest update at end of post
)
The premature pup originally sighted offshore on Friday, June 20th, worked his way a bit further south along the private stretch of Beach Drive and spent the past several days resting there under the watchful eye of neighbors and Seal Sitters first responders.
The thin pup died last evening. Abandoned by mom (circumstances unknown) and not meeting NOAA's requirements for rehabilitation (
read NOAA policy here
), he was given the chance to rest and die in peace in on a quiet beach thanks to caring neighbors. Full-term seal pups have only a 50% chance of surviving their first year and survival rates of premature pups are greatly reduced in the wild. The beautiful little male pup, nicknamed Ali and a true fighter, was examined postmortem - photos of teeth will help our consulting marine mammal biologist estimate age.
Please check back for Seal Sitters' update as we receive more input from the biologist. Heartfelt thanks to everyone who so graciously allowed SS volunteers onto their property to observe and educate neighbors about this sweet little pup. It was a difficult and complicated situation for all involved.
Please contact Seal Sitters' hotline at 206-905-7325 (SEAL) if you have a marine mammal, dead or alive, on your beach.
Full-term harbor seal pups are just now being born in South Puget Sound area
rookeries
.
View WDFW's seal cam
for a chance to see the pup born Monday evening, as well as lanugo pups at a protected harbor seal
haulout
. You might even get lucky and see a birth! By mid-July full-term pups will outnumber lanugos in the rookeries as seal pupping season will be in full swing in our area.
PUPDATE (June 26, 2014)
After review of photos, WDFW's marine mammal biologist estimates that premature Ali was about a week old.