Jan/30/13 07:25 PM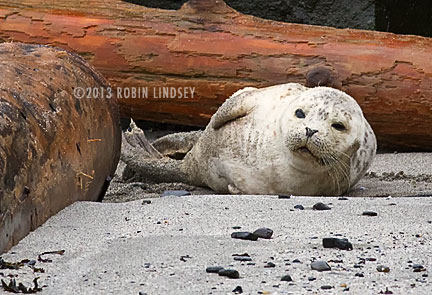 Squiggles had a peaceful slumber in the light rain at Don Armeni boat launch today. After checking the beaches at Jack Block Park for seal activity, Seal Sitters' responder drove through the boat launch around 10am on her routine "sweep" and noticed a seal pup snoozing among the timber on the south ramp. Quickly grabbing stranding materials, she created a buffer zone around the estimated 6 month old pup.
Squiggles barely stirred even as a large boat launched from the ramp opposite her and finally returned to Elliott Bay around 4pm. Seal pups seem to consider the ramp and parking lot as one endless easy access beach, not realizing the extreme dangers of the location with boats and trailers and car traffic.
Rehab Ruby was sighted around 3pm resting on the protected beach at Jack Block Park. Great news - it looks like Ruby has gained some weight since we first saw just over a week ago. We are thrilled that she has chosen West Seattle as her new home.