Dec/30/14 06:35 AM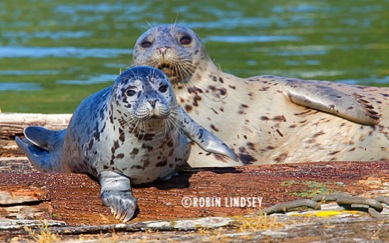 All-volunteer Seal Sitters MMSN hopes you will consider a year-end donation to help us continue to protect seal pups and other marine mammals on West Seattle beaches throughout the coming year.
Your money goes directly to our efforts to provide a caring and safe environment for seals who need to rest and gain strength in an urban setting.
SEAL PUPS AND RESEARCHERS FACE CHALLENGES
As you are aware, seal pups do not always survive their first year. In fact, with a 50% mortality, the odds are greatly stacked against them.
When a seal pup dies here on our beaches, we wish we could find out why.
A necropsy is often the only way to provide answers. Due to recent federal
Prescott budget constraints
for critical marine mammal research, Washington Department of Fish and Wildlife Marine Mammal Investigations Unit (WDFW-MMI) is forced to limit the number of tissue and blood samples sent to labs. If such samples are not being analyzed, it is difficult to monitor emerging diseases or other health concerns among Puget Sound seals.
WE CAN MAKE A DIFFERENCESeal Sitters' current fundraising focus is to do what we can to help fund lab costs to study the cause of mortality in more cases.
We hope to provide funding to cover the cost of lab tests for approximately 10 additional necropsied seal pups in 2015. Since it is estimated these lab tests will cost up to $250 per seal (depending on samples required),
our goal is to raise $2,500 by the end of this year. You can help with your personal donation! Any amount will be greatly appreciated.Your donation will enable marine mammal researchers to learn more about cause of death in young pups
. This additional testing will provide insight into the overall health of the harbor seal population, as well as toxin levels, pathogens, and other contributing factors to mortality of individual pups.
YOUR DONATION IS TAX DEDUCTIBLE
Donations to Seal Sitters are fully deductible. Our fiscal sponsor, Associated Recreation Council (ARC), is a 501(c)(3) that processes contributions on our behalf.
To make an online donation,
click here
.
OR, you can save us the 3% charge card processing fee by mailing a check (check only, no cash) to:
Seal Sitters
4701 Admiral Way, #224
Seattle, WA 98116
(please make check payable to "ARC dba Seal Sitters")
Seal Sitters does not receive any funding from NOAA, the State, or City of Seattle for the ongoing work we do. We depend on donations from the public to continue to operate.
Please, ask your friends, family, and business associates to support our organization and volunteer efforts by making a donation to Seal Sitters. PUPS FIND SAFETY ON SHORE THANKS TO VOLUNTEERS
Seal Sitters MMSN would not exist were it not for the dedicated work of our volunteers and the support of the public - and your belief in us. We simply can't adequately protect marine mammals without you! We cannot thank you enough.