Mar/22/14 11:15 AM
Two great events are coming up this week, so make sure to get them on your calendar.
WHALE LECTURE
On Thursday evening, the 27th,
The Whale Trail
is hosting a talk entitled
"Biology and Evolution of Whales: The Historic Return of Mammals to the Sea".
Why do whales and dolphins have finger bones in their flippers? Did you know that today's cetacean's are descended from ancestors who once lived on shore and then returned to the sea? Jim Kenagy, the
Burke Museum
's curator of mammals and professor emeritus of biology at University of Washington, will enlighten us all on this fascinating subject.
Thursday, March 27, 7 - 9pm
C&P Coffee Company, 5612 California Ave SW, Seattle (map it)
$5 (kids for free)
Advance tickets: brownpapertickets.com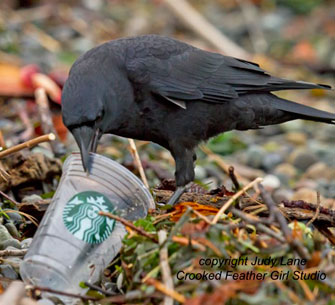 BEACH CLEANUP
The Whale Trail is also sponsoring a beach cleanup on Saturday, March 29, 10:30am - 2:30pm. You can sign up now at
info@thewhaletrail.org
or contact coordinator Judy Lane
here
. Volunteers will meet at the picnic table between Shelter 3 and 4 at Lincoln Park (
map it)
.
Each year hundreds of thousands of seabirds, marine mammals and sea turtles are injured or killed by marine debris and pollution. Fishing line, plastic bands and bags and other debris strangle, suffocate and mutilate marine life. Too many a one-legged seagull is seen along West Seattle's shoreline - a victim of amputation by derelict fishing line. Plastics, such as the cup shown here at Lincoln Park, photodegrade into microscopic particles that
never go away
and act as magnets, attracting pollutants such as pcb's and flame retardants. Consumed by marine life, these pollutants cause deformation and immune disorders. Read more on about marine debris and pollution on Seal Sitters'
website
.
Please volunteer some time on Saturday and help protect our marine mammals by removing dangerous trash from the beach!