Apr/21/10 12:35 PM
On Tuesday, April 20th, a thorough examination was performed by Washington Department of Fish and Wildlife and Cascadia Research on the adult male California sea lion that stranded live at Golden Gardens on Sunday, April 18th. The preliminary findings are as follows:

Total body radiographs (x-rays) taken at Pt. Defiance Zoo and Aquarium did not reveal any evidence that it had been shot. However, there appeared to be some abnormalities in the chest cavity, confirmed upon necropsy by the finding of a fractured sternum between ribs four and five and a significant amount of hemorraging (bruising) into the surrounding muscle. The fractured sternum was placing pressure on the aorta/heart, causing some of the small arteries around the heart and pericardium to rupture, which resulted in internal bleeding into the chest cavity and the subsequent death of the animal.

A fractured sternum is typically attributed to blunt force trauma and likely was the cause of the sea lion stranding. This would also have contributed to his difficulty moving while on the beach and the abnormal behavior of not returning to the water. There are a number of circumstances which could have caused the blunt force trauma - boat collision or another type of negative human interaction, transient orca attack, a fight with another sea lion, a fall from a rocky resting spot, etc. The external injuries, which were noted on the beach, were determined to be old wounds that had healed.

The thorough examination resulted in the collection of a large number of samples for additional analyses including examination for pathology, microbiology, bioxtoxins, and contaminants. These results will not be known for weeks or months, but may provide additional insights not only into the cause of death but into the overall health of this sea lion.
Apr/20/10 07:41 AM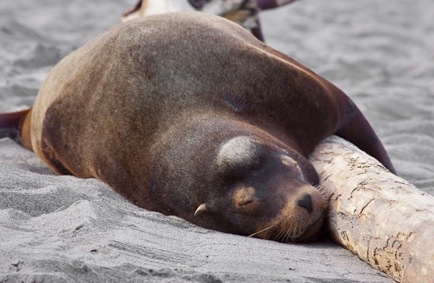 Very sad news to report - the Ballard sea lion nicknamed Golden has died overnight. WDFW biologist and team will perform a full necropsy to determine cause of death. We will provide updates as soon as they become available.
Thanks to the team that worked so valiantly to help him. And thanks to the many onlookers in Ballard who showed such concern and kindness towards this gentle old "seadog".
RELATED NEWS LINKS
Injured sea lion found on Seattle beach dies
(KING 5)
Sea lion dies after rescue effort at Golden Gardens
(Seattle Times)
"Golden" the sea lion dies
(MyNorthwest.com - KIRO news radio website)
Apr/19/10 07:50 PM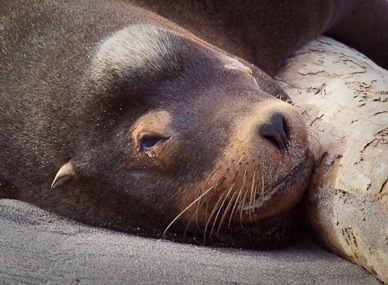 An older adult male California sea lion was rescued today from Golden Gardens beach in Ballard. The rescue was a challenging task and required the combined efforts of NOAA Stranding Network, WDFW Marine Mammal Investigations, Seattle Animal Control, and the Seattle Aquarium. The older male was nicknamed "Golden" (aka "Trevor" by a concerned group of girls from Shoreline).
A Seal Sitter volunteer responded early this morning to find the thin and listless sea lion resting between two logs on the beach. A perimeter was established with Protected Marine Mammal tape. Thankfully, at that time the beach was uncrowded and health assessment photos were taken and emailed to NOAA and WDFW for evaluation. Reports of wounds on the animal appear to be older wounds that have healed, however, we will update you after biologists examine him. Golden was extremely thin - at least 100 pounds underweight for this time of year. According to Brent Norberg of NOAA who was onsite this afternoon, sea lions should be bulked up this time of year in preparation for their long migration back to the breeding grounds of California's Channel Islands.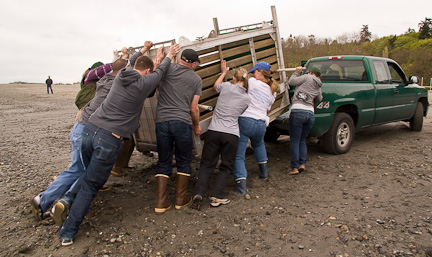 As the day progressed the beach got busier and the sea lion slowly worked his way closer to the water, far away from the safety of the tape barrier. Sea lions (unlike harbor seals) use all four flippers to move on land. Witnesses, however, say that he was inching his way on his side - definitely a sign of compromised health. It was determined that for the safety of both beachgoers and Golden he should be rescued from the beach - a difficult endeavor as it involved a soft sand beach, trucks, a 400 pound cage and an estimated 300-400 pound wild animal. Using stranding boards and poles, the team was able to coax a reluctant Golden into the huge kennel and hoist it onto the truckbed. He was transported by WDFW for a health assessment.
Check back for more photos of Golden, his rescue operation and updates on his condition as information becomes available.
RELATED NEWS LINKS
Injured sea lion moved from Seattle beach
(KING 5)
Ailing sea lion taken from Golden Gardens for evaluation
(Seattle Times)
Evening report on injured sea lion
(KOMO 4)
Stranded sickly sea lion found at Golden Gardens
(KIRO 7)