"Sentinels of the Sound" beach cleanup in honor of seal pup Sandy
Jul/17/13 07:07 PM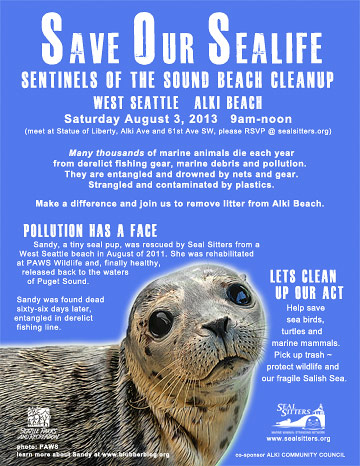 Make a difference and join us to remove litter from Alki Beach on Saturday, August 3rd. Seal Sitters'
Year of the Seal: Sentinels of the Sound
project is intended to raise awareness of the impact that humans have on our fragile marine ecosystem (to follow progress of our YOS project on blubberblog,
click here)
.

Harbor seals (who do not migrate and are year-round residents) and orcas, both animals at the top of the food chain, are especially hard hit by pollutants from storm runoff and microplastics which are stored in their blubber. A 2005 study showed that harbor seals of South Puget Sound were 7 times more contaminated with PCBs than those of Canada's Georgia Strait. The orcas of Puget Sound are the most contaminated marine mammals in the world.


All marine life is endangered by marine debris and pollution. Many, many thousands of marine animals and sea birds die each year from derelict fishing gear, marine debris and pollution. They are entangled and drowned by nets and gear. Strangled and contaminated by plastics.

This year's beach cleanup events will once again be in honor of seal pup Sandy who was rescued from a West Seattle beach in August of 2011, rehabilitated at PAWS Wildlife Center, and then released back to the wild in January of 2012. Sandy was fitted with a satellite tag (glued to her fur which would be shed when she molted) to monitor her success in the wild and provide valuable data to biologists about foraging patterns of rehabbed seals. Sixty-six days later, Sandy was found dead, entangled in derlict fishing line off the Edmonds Pier.
Read more about Sandy
.


Sandy has truly put a face on pollution. Trash on the beach becomes treacherous in the water. You can make a difference! Help keep our beaches clean and our sea life safe.
Read more about marine pollution here.


We would also like to honor the memory of the Arroyos gray whale who stranded and died in 2010. The
necropsy
revealed that there was no food in the thin juvenile male's stomach - only human trash.


Seal Sitters, along with co-sponsors Alki Community Council and Seattle Department of Parks and Recreation, will hold a cleanup of West Seattle's Alki Beach on
Saturday, August 3 from 9am-noon
. We will assemble at Alki's Statue of Liberty plaza (61st Ave SW and Alki Ave SW).
Please RSVP for this event
so we have enough bags and equipment on hand.


Read about last year's event
here
.