Lend a hand for beach cleanup and save marine life
May/09/11 11:07 AM
Seal Sitters Marine Mammal Stranding Network and the Alki Community Council (ACC) are teaming up to organize a beach cleanup on Monday, May16th from 9am-noon. Kristin Wilkinson, NOAA NW Stranding Expert, will speak briefly at 9 about the dangers that human trash and marine debris poses to all marine life, from the tiniest of invertebrates to the largest of whales. As many of you may remember, the necropsy of the gray whale that stranded and
died on a West Seattle beach
last April revealed a stomach void of food, but full of trash - plastic bags, funnel, golf ball, duct tape, sweat pants. For a complete list of items (courtesy of
Cascadia Research
who led the whale necropsy),
click here
. Trash that ends up on our beaches inevitably ends up in our marine waters - causing injuries and death to marine life, often by suffocation or strangulation. For more in-depth information on marine pollution, please visit the pollution page on Seal Sitters' website,
Toxic Seals - Our Polluted Waters
.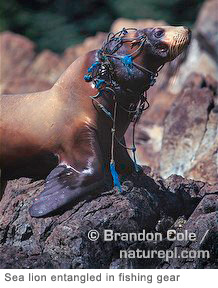 NOAA has produced several children's activity booklets about marine debris that are available here for download: Protect the Ocean and Understanding Marine Debris. Both contain puzzles and illustrations that help kids understand the importance of keeping the beaches and marine waters free of trash - so that sea life will be here for many generations to come!

Thanks to the Americorps (Washington Reading Corps of South King County) volunteers who will be participating in the beach cleanup as well as members of ACC and Seal Sitters. This event is open to the public and all those interested in making a difference for the environment. If you, your group, or class would like to lend a hand, meet us at the Statue of Liberty across from Starbucks (Alki Ave SW near 61st) at 9am. If you have questions, please contact Larry Carpenter @ 206-938-0887. Special thanks to Carol Baker and Colleen Hackett of Seattle Parks for providing cleanup tools. Tully's, Starbucks and Pioneer Coffee are all generously donating coffee to keep our volunteers warm and energized throughout the morning. We hope to see you there!