Bevy of pups make for a happy ending to year
Jan/01/13 06:41 AM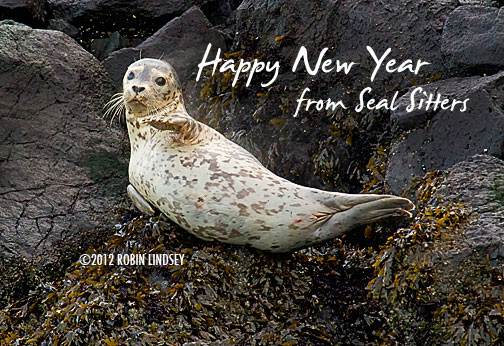 Seal Sitters ended 2012 with a throng of seals, most of them looking healthy and happy, hanging around Elliott Bay. We had 8 seals of differing ages using the piers and shoreline of Jack Block Park yesterday.
Volunteers continue to closely monitor the activity and educate the public. It has been a unique opportunity for everyone to see these marine mammals in all their beauty so close. With the holiday break, lots of parents with children have been excited to see "baby seals" and dog owners have been very respectful of their presence. One can observe seals interacting with each other and
hauling out
and
thermoregulating
(photo above) on the rocks and beach below the tower. People can see firsthand, too, that seals have markings on their coats unique to individuals; this enables Seal Sitters' first responders to identify them for our database and health assessments.
After a tough seal pup season in late summer and fall with too many emaciated pups and higher mortality rate, this wave of perky pinnipeds has been a thrill for all of us.
Seal Sitters wants to thank our dedicated volunteers for their many hours of participation in 2012 - and heartfelt thanks to those who made generous year-end
donations
to help defray our operating expenses. We wish our amazing volunteers and the public a happy new year beyond your wildest dreams.
Seal Sitters has begun the process for implementing our
2013: Year of the Seal
educational outreach project, culminated by the installation in West Seattle of a bronze sculpture of a harbor seal mom and pup. A children's essay and art contest is a highlight of the project.