Seal pup taken to rehab after rescue from rocks
Jul/01/14 08:35 PM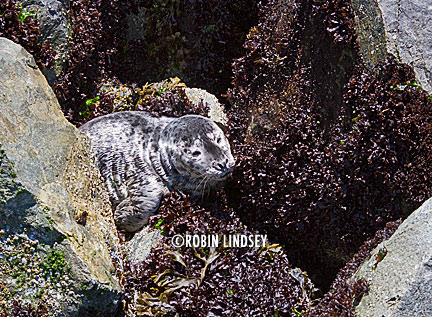 A young girl named Ivy noticed a seal pup on the rocks below the Duwamish Head pier around 10:30 this morning. Her dad called the Seal Sitters hotline and first responder Lynn arrived minutes later. A woman with two children who also called in a report helped keep people back as Lynn swiftly stretched yellow tape between "Do Not Enter" signs and cones.
With the area finally secured, volunteers had a chance to observe the pup's behavior and body condition. He was identified as Junebug by comparing facial markings of photos taken yesterday afternoon when the pup had rested along the Alki seawall. He was forced into the Sound by the surging tide around 6pm.
It appears that the pup swam to this location last evening, but was not visible to volunteers searching the beach. This morning, it became obvious that the pup was wedged in the jagged rocks - above the tideline, but not for long as the tide would be coming back in at a much higher level. Junebug tried, but could not free himself as much as he struggled. We knew we needed to pluck the pup from the rocks - to save him from exposure in the expected 90 degree heat and potential drowning at high tide.
Junebug's body weight also looked noticeably thinner than that of a nursing pup with attending mom. After consultation with NOAA's stranding expert and WDFW's marine mammal biologist, it was determined that the dehydrated pup was likely abandoned at this very urban location. He was taken to PAWS Wildlife Center for assessment and admitted into rehab. Junebug is a full-term male pup who is between 5-8 days old and it is estimated that he had not been fed for at least 3 days.
Rehabilitation of harbor seal pups is a very lengthy and costly endeavor. Since Junebug is so young, he could be at PAWS for months. If you'd like to help PAWS defray costs for giving this pup and others a second chance to survive in the wild, please
make a donation here
.
Huge thanks to our colleagues at NOAA, WDFW and PAWS. We will keep you posted with updates on Junebug's progress.