Seal pup Storm finally returns home to the Salish Sea
Nov/17/10 06:32 PM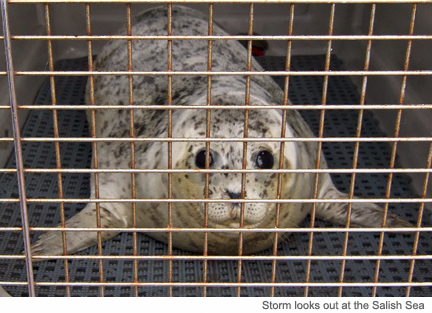 After over 10 weeks in rehab at PAWS in Lynnwood, our Lincoln Park seal pup Storm has finally been returned to her home in the Salish Sea. Yesterday afternoon, after being given a final examination by veterinarian Dr. John Huckabee, she was loaded into a kennel, sporting a new red identification tag (#803), and transported by truck to an Everett boat launch. Then, in the rain and cold, a team which included PAWS, NOAA, Everett Parks and our SS first responder escorted Storm by boat to her release destination off Jetty Island. Storm became quite animated in her kennel as the salt air and water whipped over the open boat. The excitement and anticipation was evident, too, in the faces of the team. We all silently wondered how she would react to this huge expanse of water after being alone in a small pool for months. Would she be able to fish successfully in the wild? Would she be able to assimilate into the local seal colony? Would she be safe on her own? Worries were soon vanquished by the joy of seeing the kennel gate swing open and Storm plunge into the frigid gray water. She lingered for a bit, looking so small and fragile in the vast waters, and then swam around the tip of the island, out of sight.
When Seal Sitters rescued Storm from the beach on Labor Day, September 6th, she was estimated to be only a few weeks old, weighed a mere 17.7 lbs and was a length of 33 inches. Yesterday when released, she weighed 62 lbs and was 37 inches - only 4 inches longer, but about 45 lbs heavier! Storm is truly a beautiful blubberball who has been given a second chance at life. To have been a part of saving her life and helping Storm return home cannot be put into words.
To read all posts about Storm, please click on the tag below.