Satellite Sandy spreads her wings in the Salish Sea
Feb/16/12 09:47 PM

Sandy, the rehabilitated satellite-tagged seal pup, is expanding her horizons in South Puget Sound. After being
released
near a harbor seal haul out a couple of weeks ago, she stayed pretty close to her new island home. But over the past two days, she has ventured much farther south - to Budd Bay near Olympia, where there is a huge log boom used by seals year-round to rest and, during pupping season, give birth and nurse their young. In fact, it's such a distance that there was speculation she might have hitched a ride on a passing log boom being towed south by a tugboat. Seals do often hop on log booms as they cruise by, take a snooze and wake up many miles from where they started.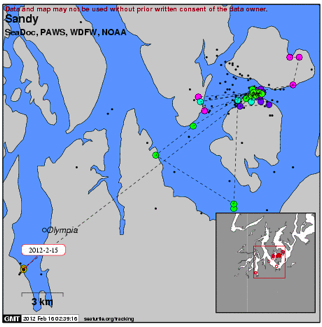 Sandy's beacon tag gives location hits depending on the number of satellites in the area and whether Sandy is on land or underwater when a satellite is near. Based on the most recent data (more detailed than the map shown here), WDFW's marine mammal biologist was able to determine that it was more likely that she swam to her new location. Dr. Joseph Gaydos from SeaDoc Society says, "We've seen other seals (satellite tagged pups) move even greater distances in shorter periods of time. They can ride the current, which as you know can be quite powerful in places. That combined with swimming can really propel them!" The great news is that Sandy is choosing areas that have lots of seals, so she appears to be adapting well to life in the wild.
You can follow Sandy's travels on SeaDoc's website. In fact, you can even get an email alert when passing satellites pick up her signal. Check out Sandy's dedicated page
here
. And, if you happen across a log boom, grab your binocs and see if there is a seal or two catching some zzzz's - maybe you'll even see Sandy with her fancy yellow hat!