Rescued and rehabbed pup Junebug goes home to the wild
Sep/18/14 06:10 PM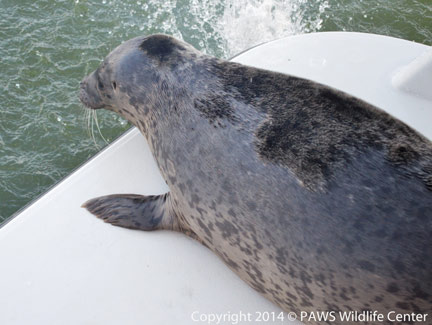 We just received word that seal pup Junebug was released back home to Puget Sound on August 26th after a lengthy rehabilitation at PAWS Wildlife Center. He was sporting an orange flipper tag for i.d. purposes in case of future sightings, injury or illness.
The abandoned and
estimated only 5-8 day old pup was rescued
by Seal Sitters MMSN from West Seattle's Duwamish Head on July 1st. He weighed only 8.6 kg upon intake at the Lynnwood urgent care facility. Junebug was a whopping 31.1 kg on release day (see photo courtesy of PAWS). The tubby pup was released at a known harbor seal
haulout
near Everett with the help of the Coast Guard.
Rehab for newborn seal pups - and weaned pups - is a lengthy process, as indicated by Junebug's two-month stay at PAWS. There is no evidence that a fattened up rehab pup has greater odds of survival than wild-weaned ones. All pups face 50% mortality their first year and some would argue that a week-old rehabbed pup who has not been taught to forage in the wild faces even worse odds.
In late January of 2013, Seal Sitters' first responder noticed a red tag on a pup resting near Salty's on Harbor Avenue (rehab tags changed from red to orange in 2014). A check in the stranding network database revealed that the pup, whom volunteers nicknamed Ruby, had been rehabbed at PAWS and released in October of 2012 at a harbor seal haulout south of Tacoma.
Ruby
had made the long trek to Seattle and Seal Sitters volunteers watched over her almost every day - keeping her safe from disturbance - for the next few months at West Seattle's Jack Block Park. She befriended another
weaner
pup nicknamed Buddy at the park, but they finally travelled on at the end of April.
The Marine Mammal Stranding Network would like to receive
reports which include i.d. numbers
of tagged seals, dead or alive. With respect to harbor seal pups, these reports are extremely helpful in determining the survival rate of rehabilitated animals.
Thanks so much to
PAWS Wildlife Center
and their awesome staff for giving Junebug a second chance at life!