Rain and rainbows as volunteers protect seal pup on public beach
Mar/12/17 08:33 AM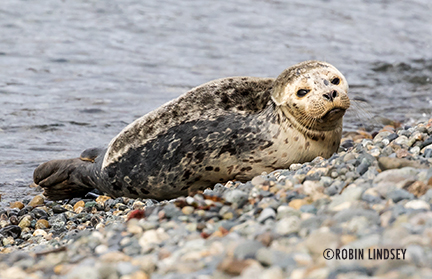 Seattle residents are growing more than weary of dreary cold and rainy days. Undoubtedly, harbor seal pups are, too. The turbulent weather, however, didn't keep a seal pup from seeking rest on the beach in ever-changing weather at Lincoln Park yesterday.
Around 2 pm, Hotline Operator Julia received a report of a pup onshore near Colman Pool. First Responder Robin drove down to the forested park and made the long hike in along the beach, toting a rolling luggage cart complete with cones, sandwich boards and stakes. She spied the fluffy and relatively robust white belly of a pup, resting at the waterline. Up close to the woody debris and with a rapidly incoming tide, it was uncertain how long the pup would linger.
Battling sustained winds and 20 mph gusts, putting up a tape perimeter around the sleeping pup proved a challenging task. Cones and barricades blew over. Tape snapped and whipped in the wind. Despite it all, the pup slept soundly.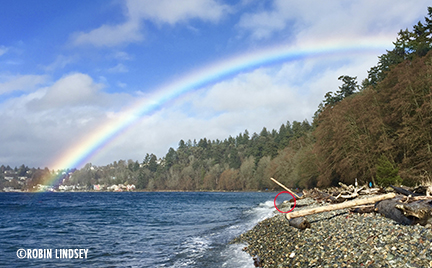 First Responders Dana and Lynn arrived shortly after, talking with passersby and distributing pocket-sized info brochures. In between rain squalls, there were periodic breaks of weak sun and even a gorgeous rainbow (pup location in red circle).
As the tide encroached on the beach, the pup wriggled a few feet up, snuggling against a large brown log. Curious onlookers were able to get a sneak peek of the sleeping pup from behind the tape at each end of the perimeter.
The wind was relentless. As the afternoon wore on, the skies blackened ominously to the southwest behind passing Vashon-Southworth ferries and a lone fisherman, who steadily cast his line into Puget Sound. The pup, nicknamed Cha-cha, slept comfortably, but was alert off and on to activity in the park and wind-fueled waves sweeping the shoreline. When the storm finally hit around 5pm, most people hurriedly left the park.
Cha-cha returned to the water around 5:30. Lynn and Robin gathered materials and hiked out as wind and rain swirled around them - and not a minute too soon - just as the storm hit the shores of Lincoln Park.