Share the Shore banners go up along Alki Beach
Aug/29/14 09:11 AM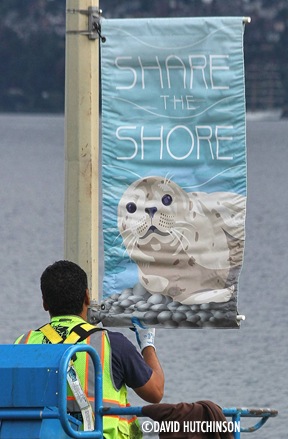 As you walk, bike or drive along Alki Avenue, it's hard to miss the bold, graphic banners of a harbor seal now hanging from 10 street poles which stretch from the Bathhouse to Duke's. Seattle Parks employees installed Seal Sitters'
Share the Shore
banners there yesterday.
Designed to celebrate and raise awareness of the arrival of seal pups on our urban beaches, the banners are the result of an in-kind City of Seattle/Department of Neighborhoods (DON) grant which Seal Sitters secured in 2010. Artist
Nancy Stahl
created this beautiful illustration from a Robin Lindsey photograph of seal pup
Shanti
.
The graphics serve as a reminder that September and October are the height of harbor seal pupping season in South Puget Sound - and that it is not uncommon to encounter a resting pup on the beach. Pupping season is already well underway here in our area with the response over the past week to 5 seal pups on West Seattle beaches.
The 2010 and 2011 Seal Sitters' educational outreach projects also included the installation of informational beach signage about seals and seal pups in locations across West Seattle. NOAA has since extended that beach signage across the region (and plans to extend installation to the Outer Coast of Washington).
Read more here
.
Many thanks to DON for the award that made this project possible - and we extend huge thanks to Seattle Department of Parks for their on-going cooperation and extreme generosity. We value our partnerships with local government.
So, please do remember to
Share the Shore
if you see a marine mammal on the beach and call our hotline as soon as possible at 206-905-SEAL (7325).