Christmas seal Paz improves in rehab
Dec/29/15 03:11 PM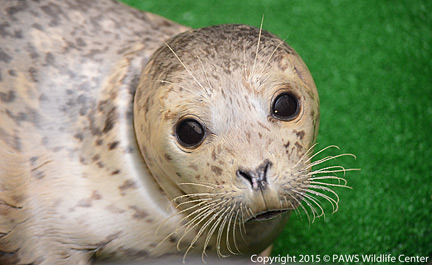 Seal Sitters received a "pupdate" this morning from
PAWS Wildlife Center
that seal pup
Paz
made it through the holiday weekend and is improving each day. The female pup is "finally gaining some weight and is on solid food."
Paz, who was suffering from seizures, was rescued by Seal Sitters first responders from a West Seattle public beach early in the evening on the 22nd.
Examination at PAWS revealed that in addition to suffering from emaciation and hypoglycemia, Paz also had lung worms, but was not stable enough to be treated for the parasite load. Underweight seal pups with weakened immune systems often become infested with parasites during the cold, wet fall and winter months, which can result in serious respiratory issues and pneumonia. It is great news that Paz has the strength to start treatment to clear her lungs of dangerous parasites. She will continue to be closely monitored by PAWS' rehab staff.
We are encouraged that Paz, a tiny pup measuring only 83cm in length, is on the mend enough to be enjoying swims in a big pool, complete with a green astroturf
haulout
(photo above). Her rehabilitation will be lengthy and Paz still faces many difficulties on an uphill road to recovery.