Seal pup decides to mix things up
Apr/07/17 07:33 AM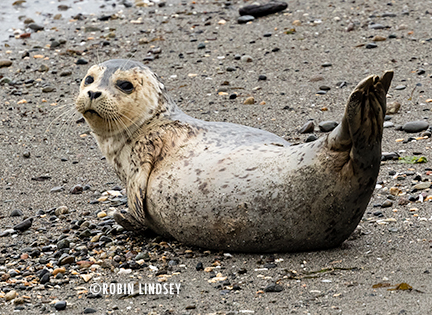 After lulling Seal Sitters first responders into a sense of regularity over the past week, seal pup Taffy pulled a fast one and showed up early! Instead of hauling out during high tide yesterday, she came around 9am - a good four hours sooner than expected.
Once again, vigilant volunteer Nicole was the first to spot her, thru binoculars from her home well south of the tape perimeter, left standing to make beachcombers aware of Taffy's daily comings and goings. Dashing to the beach, Nicole guarded the area while FRs Lynn and Robin checked the seal's health from a distance with binocs and a long telephoto lens. They looked for bloody mucous from the mouth, seen on previous days and a sign of parasitic lung issues, and were relieved to see nothing unusual.
On a dark gray morning and in a heavy downpour, Taffy stretched her rear flippers and tail up in the air, circulating warmth thru her body. Like always, she was alert to our presence far down the sea wall. As she settled in on the fine sand beach, Volunteer Scheduler for the day Karin began checking the online calendar to see who was available to lend a hand for the day.
Unless absolutely necessary, the seal pup continues to avoid using either fore flipper. Taffy left the beach several times around 12:30 pm after a series of waves crashed over her with the incoming high tide, but returned within minutes each time. Finally, around 1pm, she gave up and swam out into the flat silver water - just as the sun came out and crowds of people (and off-leash dogs) started to appear. While Taffy was still onshore, a man with two off-leash pitbulls threw a ball for his dogs near the perimeter.
Though the pup never seems to get any real sleep or calm rest, she didn't seem quite as anxious yesterday - likely due to the few people out in gloomy weather. Many thanks to Nicole, Colette, Owen, Sarah, Jonel and Dave for protecting Taffy. As usual, Karin did a great job lining up volunteers. Molly arrived just as Taffy was leaving, but stayed until 4pm, knitting in her car and keeping an eye on the beach just in case the pup returned for some more rest.
Now that Taffy has decided to mix things up as far as hauling out, it will be more of a challenge to keep her safe on the beach.