Rehabbed Canadian seal pup visits South Puget Sound
Nov/13/14 03:18 PM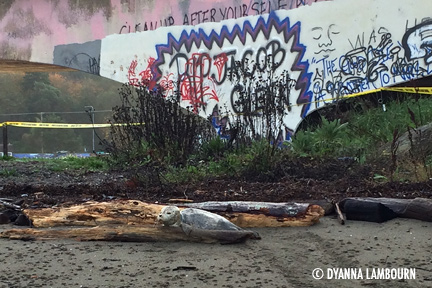 On Wednesday afternoon, Washington Department of Fish and Wildlife biologist Dyanna Lambourn responded to a report of a harbor seal pup onshore at a sand spit in a far corner of Henderson Bay. As she approached the beach underneath a bridge, she saw the pup resting about 35 yards from a smoldering beach fire. Three young men who had been drinking beer quickly left the scene, but it does not appear that they harmed the seal.
Dyanna noticed the pup had a 4-digit tag on the left rear flipper, indicating a stint at a rehab facility. In Washington State, rehabilitated pinnipeds have a 5-digit tag. She taped off the area with yellow
Protected Marine Mammal
tape, posted informational signs and observed behavior at length before leaving the somewhat secluded location, popular with a "party" crowd. Early the next morning, the pup was back on the beach.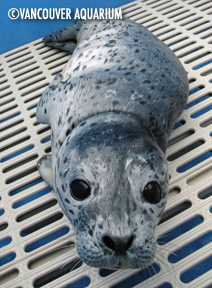 After contacting the Vancouver Aquarium in British Columbia, it was determined that the pup had indeed been rehabbed at their facility - one of 160 pups given a second chance there this year. This pup, nicknamed Lithium, was admitted on July 4th, having been rescued from Mayne Island on Horton Bay. Estimated at only 3-5 days old with the umbilicus still attached and no attending mom, the tiny female pup weighed only 8.4 kg with some superficial wounds around her face and head (photo at left on admittance). On August 14th, weighing a respectable 21.2 kg, Lithium was released at Iona Beach in Richmond, BC, a suburb of Vancouver.
Three months later, far away in Washington, WDFW monitored Lithium's activities in South Puget Sound for 5 straight days. Lithium, wary of human presence, was observed coming and going from the beach at different times - a good sign. The spit is the only place to
haul out
and rest in that area when there are extreme high tides, such as last weekend. It is located in Burley Lagoon, a shallow estuary with lots of small bait fish, cutthroat trout and chum salmon returning this time of year. Thankfully, there has not been much boat traffic or gillnet fishing of late. Other seals have been observed routinely resting on the oyster floats inside the lagoon in the early morning or late afternoon. The pup is in fair body condition, common to many struggling weaned pups during late fall and winter months. We hope our visitor from north of the border packs on some much-needed pounds. Lithium was last sighted on Sunday afternoon.
A
recent study by SeaDoc Society
of satellite-tagged harbor seal pups revealed that rehabbed pups travel much farther in search of food than wild-weaned pups - in fact, three times as far and wide. This would only contribute further to Lithium's low body weight as she expends more calories traveling greater distances to forage. If you happen to see a tagged animal, please inform your local marine mammal stranding network of the location (
map with networks contact info here
). This information is extremely valuable in helping biologists determine success rates of rehabbed seals.