It's raining cats and dogs - and seal pups
Mar/14/17 01:00 PM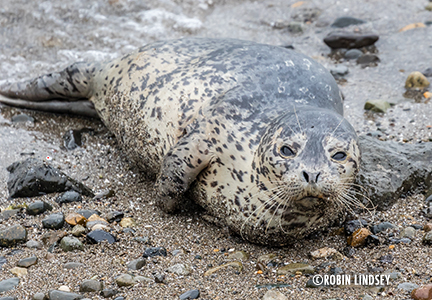 Surprisingly, Seal Sitters didn't receive any calls about seal pups at Lincoln Park Monday morning and, considering the soggy weather and disheartening forecast, that wasn't such a bad thing from a first responder's perspective. Maybe it would be a day to get caught up on laundry or answer the many emails piling up over the last few days. Or maybe not.
Longtime Hotline Operator Larry's phone buzzed just before 3 with a call about a seal pup trying to come ashore at Jack Block Park's public beach, notorious for illegally off-leash dogs. So, First Responder Robin zipped down the hill and was at the nearby location within minutes. In the pouring rain, a small, thin pup was sound asleep on a little sliver of sand at the far corner of the beach. Yellow "Protected Marine Mammal" tape was stretched across the only public access point at the opposite end. First Responder Lynn arrived to take a quick peek at the little one as well.
Every 15 minutes or so, the incoming tide lapped over the pup's rear flippers forcing him to keep moving a few feet further down the beach. The pup was thin and seemed exhausted. Once Robin was convinced the pup might actually remain onshore, she called Volunteer Scheduler Colette who checked the online calendar. About 1/2 hour later, while Robin was rummaging in her car trying to find a dry pair of gloves, the pup left the beach. Of course, volunteer Kate arrived minutes later, only to miss seeing the pup.
After looking at photos of the seal's stunningly marked coat, Kate remarked that the pattern looked just like granite. They waited patiently for quite some time for
Granite
to return for a rest, but finally Kate was sent home. After hanging out awhile longer and still no sign of a glistening head out in the flat gray, rain-splattered bay, Robin started removing the tape and cones from the sidewalk.
Just before leaving, she did a final scan of the beach. What was that light little shape at the tide line at the far opposite end? Wood? A rock? It was sneaky little Granite. Hustling down to the wide cement walkway leading to the Jack Block pier, Robin established yet another perimeter to keep the occasional curious people back a reasonable distance. The tired pup was just a foot of two beneath the wire fencing along the landing. Once again, volunteers headed down to help out. Just minutes before Betsy and Stephen arrived, a series of waves swept over Granite and he swam off. His head broke the surface of Elliott Bay just long enough to say goodbye and then, he vanished.
The beach was monitored until after high tide around 6:40pm. Jack Block Park closed at dusk, so volunteers did not need to worry about his safety if he returned during the night.