It takes a village to protect urban seal pups
Feb/26/14 06:02 AM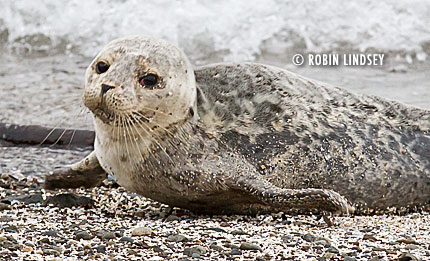 (see update end of story)
Early Saturday morning, Seal Sitters MMSN volunteers David and Eilene drove through the Don Armeni public boat launch on their way home from downtown Seattle. First responders, on and off duty, routinely look for pups in dangerous locations, such as the ramp, where pups often come ashore to rest. Sure enough, a pup was sleeping on the sand-covered cement, vulnerable not only to curious people, but much more worrisome, offleash dogs and boat traffic.
David quickly grabbed barricades and tape stashed at the location and established a perimeter to protect the pup in one of three lanes available for vessel launch and retrieval. Thankfully, in this boating off-season and cold rain, no boats were present.
Other first responders were on the scene in minutes to lend a hand. Scheduler for the day, Lynn J, was notified and she quickly referred to our online calendar and began calling volunteers. An iPhone was used to send out an APB "seal on the beach now" to all volunteers.
In 2-hour shifts, volunteers watched over the pup throughout the day in a cold, often drenching, rain. Nicknamed Penny (shown here moving closer to the sea wall, away from breaking waves), the thin pup showed no overt signs of illness, but lack of interest in people and nearby barking dogs was definitely a concern. A pup estimated to be anywhere from 6-8 months old should be much more wary of disturbance. However, there were no coughing spells or discharge from the nose or mouth - signs of parasite and viral load. Due to the physical constraints of the location with a parking lot and need to keep boat access open on the remaining ramps, the public was allowed closer than the ideal. The few boat owners that launched during the day were extremely cooperative and happy to give a resting pup some space.
Volunteers spoke with passersby who struggled to discern the shape of the pup on land even though they were just yards away. From the back, Penny looked like a dark rock. From the front, covered in sand and crushed shells, she blended into the shore. The spotted coat provides seals excellent camouflage from predators - or an inquisitive public. Dogs, however, with their keen sense of smell are easily able to seek out a pup - all the more reason to keep dogs leashed near beaches and well away from vulnerable young seals.
After dark, in the bitter cold 37 degree weather, volunteers continued to check on the pup during the night. Plans were put into place to capture the pup in the early morning hours for transport to rehab if the pup was still on shore. It is not unusual for a pup to spend well over 12 hours on shore, but something definitely seemed amiss for this increasingly listless pup. NOAA requests that no intervention occur until a pup has been onshore a minimum of 24 hours unless circumstances are unique - such as human interference - since there is a 50% mortality in the wild and there are extremely limited resources for rehabilitation in the Puget Sound region.
At high tide, around 1:30 am, Penny was no longer at the ramp. Volunteer Buzz located the pup at 2am, sleeping on the sand at nearby Duwamish Head, and put up a tape perimeter to prevent people from walking down the stairs to the beach. At 5:30 am, it was clear the pup was in distress and a first responder team assembled at 7am's first light to capture the pup only a few feet from the approaching tide. The largely unresponsive pup was taken to
PAWS Wildlife Center
for stabilization and treatment, but died upon arrival.
If a necropsy is performed, we will share the results. Thanks to our many amazing volunteers who helped give Penny some peace on the beach. And thanks as always to PAWS' caring staff. This is a very sad day for all of us.
NECROPSY RESULTS 2/26
PAWS Wildlife Center's veterinarian performed a necropsy on Penny yesterday. The exam showed that the pup had pneumonia related to lungworm with what appears to be a sudden onset. The lack of obvious symptoms is somewhat baffling. The male pup weighed 14.7 kg. We are extremely grateful to PAWS.