Rehabbed seal pup released back to the wild, swims free again
Mar/18/17 10:02 AM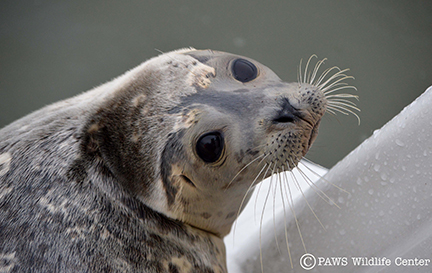 Seal Sitters MMSN volunteers could use a little uplifting news and this week we received some. Seal pup
Hope
, rescued from a West Seattle beach in mid-January and rehabilitated at
PAWS Wildlife Center
in Lynnwood, was returned home to the wild on Monday after passing her final health exams. The pup had suffered 22 bite wounds from an unknown animal.
SSMMSN volunteer Cathy, who also volunteers at PAWS, said Hope was so fat, she looked like a beach ball with teensy little flippers - a true "blubberball". That thick layer of blubber will help her transition to foraging once again all on her own - and keep her warm in the cold winter waters. Hope is shown here just before leaping off the boat transom into Puget Sound near Everett's Jetty Island. She is sporting a NOAA orange rehabilitation tag #26583 on her rear flipper.
Thanks so much to PAWS' amazing staff for nursing Hope back to health and giving her another shot at a long, happy life. If a pup is able to overcome a 50-50 chance of survival the first year, the average lifespan of a harbor seal is 25-30 years. With luck, maybe we'll see Hope at an area harbor seal rookery with her own pup in a few years.
If you are out boating and see a seal or sea lion that is tagged, please try to read the number through binoculars or long telephoto lens and report the location by
emailing Seal Sitters
. We will contact the appropriate agency with the tracking data for scientific studies on survival of rehabbed animals.