Sandy the satellite-tagged pup near Vashon Island
Feb/21/12 06:47 AM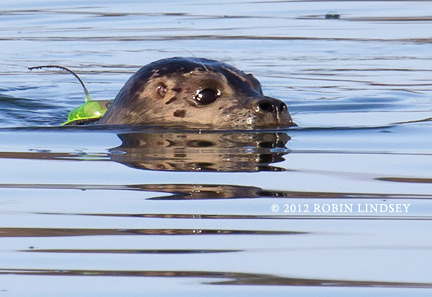 Sandy, the seal pup rescued from a West Seattle beach last August and released back into the wild after a lengthy rehab on January 27th, is back in our area. She was fitted with a satellite transmitter (glued to her fur that will be shed when she molts) and her movements are being tracked by the SeaDoc Society. The most recent satellite transmissions indicate that Sandy has now travelled all the way from the Olympia and Steilacoom area (where she was released) to the north end of Vashon Island - and is, this morning, near the Port Orchard/Southorth ferry run. She may well end up back in West Seattle!
Keep your eyes peeled for a little seal pup with a yellow transmitter on her back. If you see her, please keep your distance and call our hotline @ 206-905-7325 (SEAL). Her movements are being studied by biologists and will give tremendous insight into the behavior of rehabilitated pups as they try to adapt to life back in the wild. SeaDoc has a web page devoted to Sandy
here
and you can receive email updates as to her locations and cheer her on. It is very exciting for volunteers and the public to be able to follow Sandy's progress and see how well she is doing back in the Salish Sea.