Apr/23/15 05:07 PM
The Whale Trail presents:
"A Tale of Two Otters: Natural History of River Otters and Sea Otters"
Presentation by
Leo ShawWhen: Thursday, April 30th, 7PM (doors open 6:15)
Where: C&P Coffee Company, 5612 California Ave SW
Cost: $5 suggested donation. (Kids get in free!)
Advance tickets: brown paper tickets here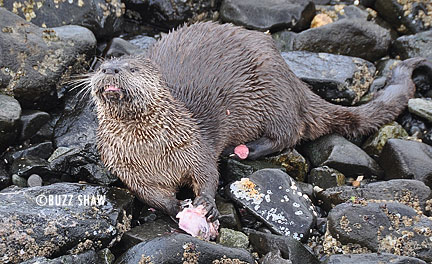 What is the difference between a sea otter and a river otter (photo right)? Where do they live, what do they eat, and what role do humans play in their environment? Join us to learn about these fascinating and playful creatures who share our shores.
Leo Shaw will discuss the natural history of river and sea otters in North America, with a special focus on the river otters of West Seattle! His talk will cover human interactions, population swings, social structure, anatomy and physiology food preferences, legal status, and current threats.
Buy tickets early
to reserve your seat. And hurry! This will sell out.
This is the next in a series Orca Talks hosted by
The Whale Trail
in West Seattle. The event also features updates from Seal Sitters, and Diver Laura James (tox-ick.org). You otter be there!
About the Speaker
Leo "Buzz" Shaw is a zoologist who served as a Marine Education Specialist with the Seattle Aquarium from 1977 to 2005. Now retired, he continues to work part-time on Beach Naturalist and Citizen Science programs for the Aquarium.
Leo was a board member of the American Cetacean Society Seattle Chapter in the 1980s. He currently volunteers as
Science and Education Advisor for Seal Sitters
and as a marine-mammal expert for The Whale Trail.